Luke

Luke, our Cumbreck Jack Russell Terrier is now nearly four years old; we could not have hoped for a better dog!He is loyal, affectionate and keen to please. He is very handsome indeed, and it gives me a great deal of pleasure to watch him run and play; strangers often stop us to comment on his beauty! He is tenacious and enjoys a good walk; when we lived in Cumbria, he would accompany us up many a hill; the terrain is somewhat flatter in Kent, where we are now, but Luke is often still wagging at the end of long walks that leave my husband and I staggering homeward.

In previous years, when I was travelling a great deal, Luke accompanied me on many lengthy train journeys; his behaviour was impeccable and he was excellent company. Luke is also a snuggler, and enjoys curling up on my lap or at my side for a brief nap.We now have another dog, a whippet called Angus, and the dogs make great companions for one another. As I type, I can see them lying friendlily on one another in the garden, basking in the sun.

In short, Luke is a wonderful dog, and makes an excellent pet; I have recommended Cumbreck to a number of friends, and would not hesitate to do likewise to any good dog owner looking for a Jack Russell.

                                                                                                ..................................................................Emma Kerry

Testimonials

New Testimonials 2021 are being added and will be shown first on the page.

Milo & Val (and joined by Xena Vals daughter)

In October 2007 we collected Milo, and our lives changed over night! For the better I may add. Milo is nearly 3yrs old and has turned out to be a fantastic family member. He is extremely strong, his energy is never ending, he'll  walk for ever. He is very trustworthy, affectionate, and intelligent.

So in 2009 we visited the Cumbreck Terriers web site, and noticed Val Milo's mother was being retired, and Angela was seeking a suitable home for her! My wife and I had absolutely no hesitation in contacting Angela to inquiring to see if she thought we'd be suitable!

Well after fourteen months Milo & Val, mother and son, are in our minds, the best dogs in the world! When Angela advertises "Jack Russell Terriers  of Distinction" She means just that! We travel the Country , and where ever we are, the dogs always turn heads. In our local area they are known as the Duracell dogs, or the book ends. They have hearts of Lions, a fantastic temperament, and endlessly affectionate. They enjoy nothing better than their weekly treat of sharing our bed! Well it's only supposed to be once a week!!

Angela & John

Newcastle Upon-Tyne

Skip

Dear Angela,

Happy New Year!

The last weeks were so busy, but finally I wanted to tell you about Skip, lovely Skip!!!

He is doing very well, is much loved and growing! It took him a few days to eat without fuzz, slept through after three nights and that's it.

He loves people and already met a lot, because everybody visit us, just to see him! Skip, actually is easy to handle, the mouthing only a matter for my youngest son, but both, my son and Skip learned a lot recently! The vet is full of praise, he is healthy, outgoing, not hyper, really, just active, not boring, bathing, grooming no problem, separation no problem. All I want to say: a wonderful dog!!! We love to be with him. He finished the first puppy class already and has had one private lesson at home!

Even though we feel slightly uncomfortable with having him off lead in the deer park, he does very good with it! He is a real soccer player! And bilingual!

I've read a lot of books, since we had a long time to prepare, and I must say, almost all of the problems or difficult situations I've read about, never occured with Skip....like vet, car driving, collar, off lead walking, chewing the house up, separation anxiety....you sold us a healthy and self-confident dog-thank you!

All my best wishes for your pregnancy,

kind regards,

The Brackmann Family

Kimmie/Lola

Hello Angela,

I've been meaning to send you a few pictures of Lola (formerly your lovely girl Kimmie - think she was Bruce and Connie's daughter) who we have now had for over 18 months. She is now just three, the week before last, and such a poppet. Our old JR Happy Jack simply adored her when she arrived tired and a bit overwhelmed after the long journey back from Cumbria and she quickly made friends with him and cheered up his life no end for the 4 months they were together before he died at the grand old age of 17+. 

Today she is a popular dog in Emsworth, the sailing village where we live. Everyone knows her, she is such a beautiful character, quite gentle for a JR and with lots of admirers. Her spotty ear is a great talking point and it keeps youngsters amused for ages trying to count the spots!

If as part of your website update there is space to use a picture of her and recount that having had her as a slightly older dog, she is an absolute pleasure to have around, that would be great!

with best wishes

Shirley and David Thomas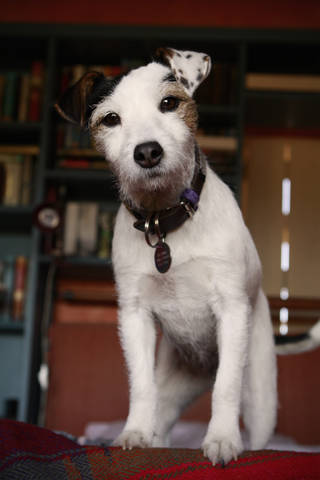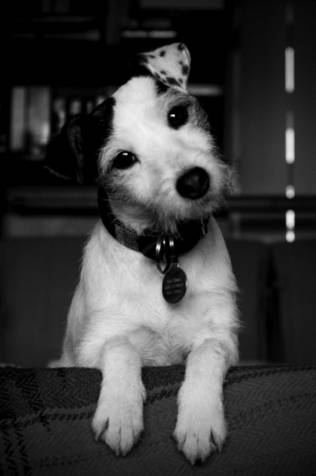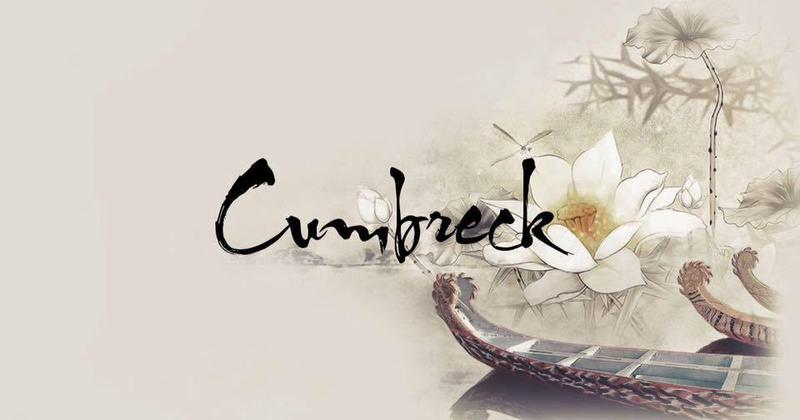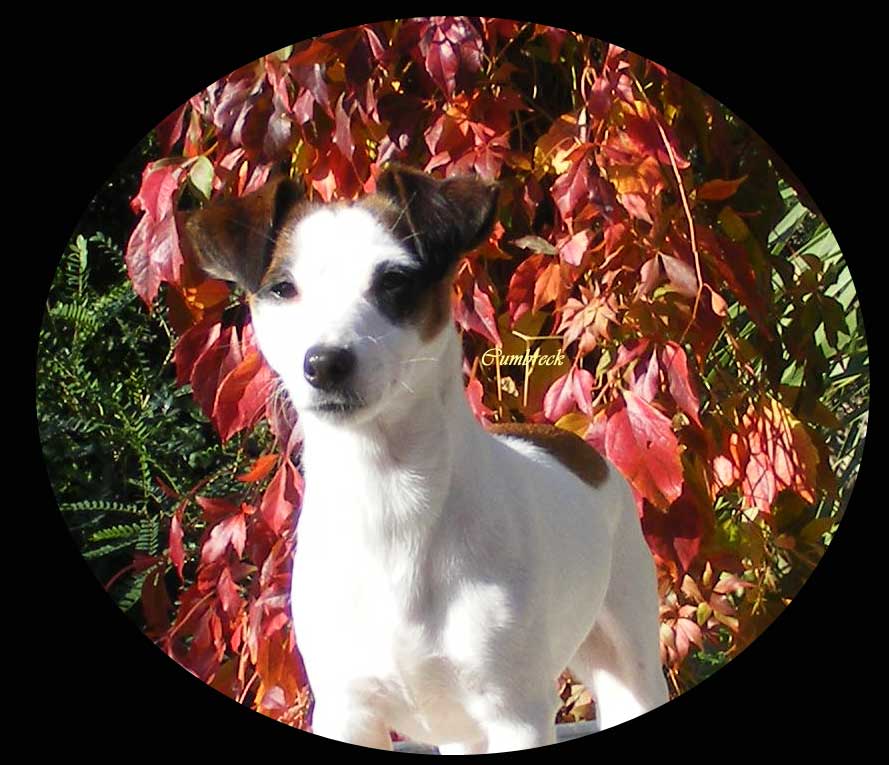 Roscoe and Penny

I first met Angie back in 2005 when I brought my first Cumbreck JRT (Roscoe) from her. My darling Roscoe was a super little dog but I sadly lost him due to cancer in 2013.

I couldn't resist returning to Angie and her family for another beautiful Cumbreck JRT!

As a breeder myself, I think it highly important that you know where your dog comes from and to have a good breeder.

Angie is bountiful in her knowledge of her breed and has good ethics and standards of what she does.

I count Angie and her family as personal friends and couldn't recommend her highly enough!

10th February 2016

Judy and Tessa

After we lost our first little dog early in 2007 we decided to wait for a while before getting another. By mid summer we were missing having a dog and started browsing the web for another Jack Russell pup. We came across the Cumbreck site and Angie. The address was just over the border from us in Cumbria, so we made an appointment to visit.

We were so impressed by the dogs and the lovely family atmosphere in which Angie raised them, that we put down a deposit for a pup there and then! Our pup was to be born in January. I kept an eye on Angies website, however, and in October she posted a picture of a wee black and white pup that someone had changed their mind about. Needless to say, we were down in Cumbria 2 days later to pick up our Judi! (Cumbreck Queen Xenobia no less!)

She's been nothing but a joy to own (mostly!) lovely temperament, amazing character, and we wouldn't be without her. So much so that, when Judi was 3 we decided to get her a Cumbreck friend, and Angie was kind enough to part with 4 year old Tessa. They are completely unalike in character with Judi being boisterous and bouncy and Tess being a total lady, calm and a little shy!!

We simply adore our Cumbrecks, and should you be lucky enough to get one, I know you will too!

Anne and Rod (Dumfries)

10th February 2016

Tigger and Freddy

In 2011 I began to look for a future stud for my little kennel in the southwest of Germany. It should be a smooth one, of old English type and sound character. The dog would need a sound character to fit into my pack of 12 Russells. And it should mature rather small because the bitch I wanted to mate with the boy is just about 9" tall.

So after a lot of inquiry I finally found the Cumbreck kennel. It was the only kennel that had dogs I really liked in structure and type. And they were small without being as big boned as the Jack Russells that were bred after Australian standard. I do not prefer this type.

In Germany you usually don't pay money to a breeder you never met in person in advance for the option only to get a puppy from a future litter. I thought some time about this leap of faith and then decided to do it.

2013 I got Cumbreck Tiggerific, a beautiful black and white male puppy. Unfortunately he turned out to be not for breeding, so I kept him as a pet and got 2014 his full brother Cumbreck Fairdinkum, called "Freddie". To pick them up, I flew to Manchester both times and they were brought to the airport by Angie and her husband Wayne. The complete airport staff fell in love with them on first sight - both times!

Being 100% terrier, they both are bringing a lot of joy and humour into my pack, they both are very good natured and fine little fellows. Freddie is already father to a little white-brown bitch who now lives on a large horse farm.

I recommend Angie not only as a breeder but also as a fine and trustworthy person who has a very good understanding for individual needs (in my case that would have been: no potential trouble-maker for my pack). Her suggestion about which boy to choose was absolutely sensitive and convenient. She has a lot of experience and breeds fine little Jack Russells of a type you do not find very often any more. If one day I want to broaden the gene pool of my kennel again, Angie would be my first address to approach.

Claudia Kopp-Ulrich.

February 8th, 2016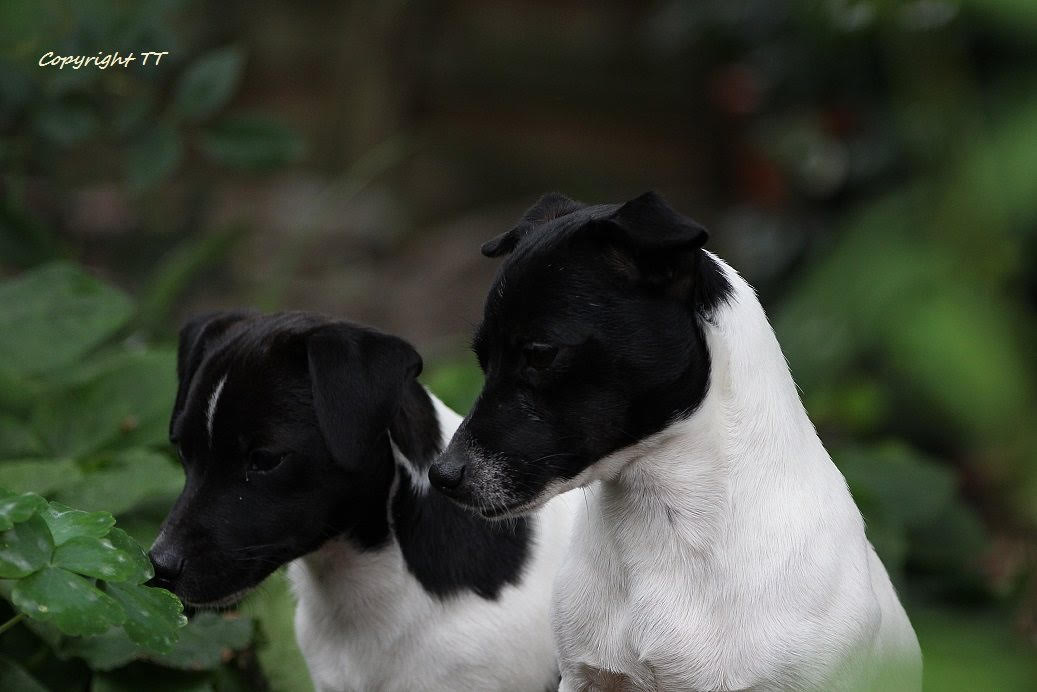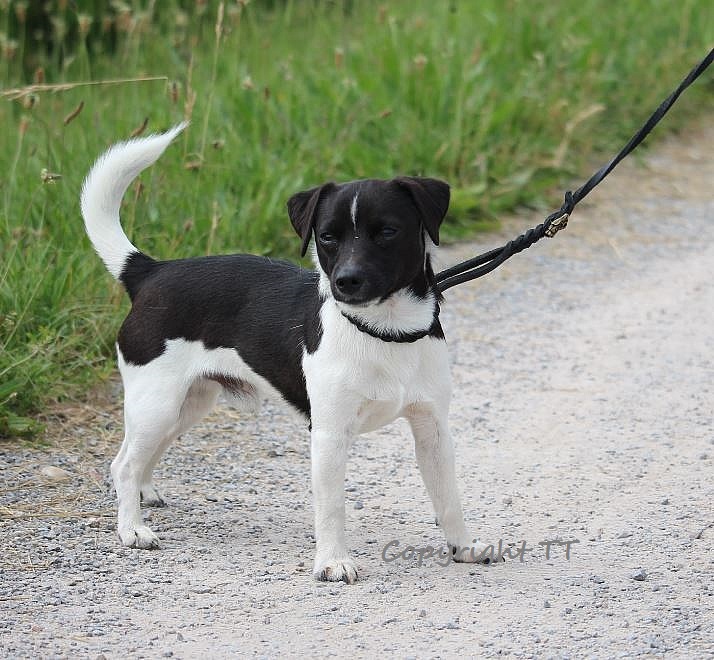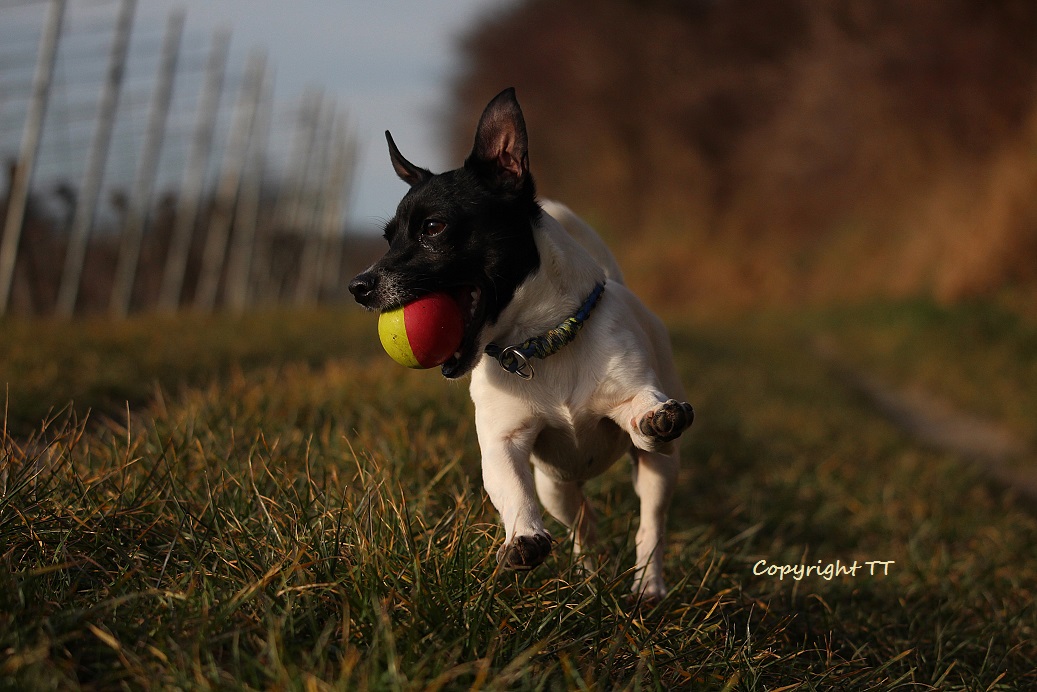 Denver

I've always loved JRTs. Every time I saw one in the street, I'd smile! I just love their characters! My husband grew up with his family having gun dogs but he soon started to take notice on how awesome JRTs are! Now that we have little Denver, she has stolen our hearts and we have Angie and her family to thank for that.

I knew we had to have the best and after a long time searching through the internet, I found Cumbreck Jack Russells. I then spoke with Angie on the phone and she encouraged me to introduce myself on the Facebook group. Angie was so nice, informative and added me to her waiting list for a pup.

Through the Facebook group I've met so many lovely people who all own a Cumbreck JRT from Angie. All I can say is wow! What a lovely community full of great people who post lovely pictures of their pups. They also support each other and provide advice. The consistent message that comes out of the Facebook group is what a wonderful person Angie is and I can't stress that enough. She keeps in touch with everyone and is always there to help with any questions. Before we even brought our puppy, Denver home, we knew she would be a beauty and we took comfort in knowing Angie was always at the other end of the phone.

Angie kept contact with me throughout Denver's mum (Lilly's) pregnancy, even though she had a lot going on, including moving her family and dogs to a new home in Ireland.

When it came to collecting Denver, we got the ferry across to Belfast from Scotland and Angie, Wayne and Kimmie met us there. It was a long drive for them. Denver travels so well in the car (and on ferries!), she doesn't suffer from separation anxiety, she sleeps through the night  with no problems and all in all, she makes our lives complete. She is absolutely beautiful.

My husband and I would love to have another puppy from Angie – hopefully we will do that one day!

Lauren and Stu (and Denver!)

xx

29th March 2016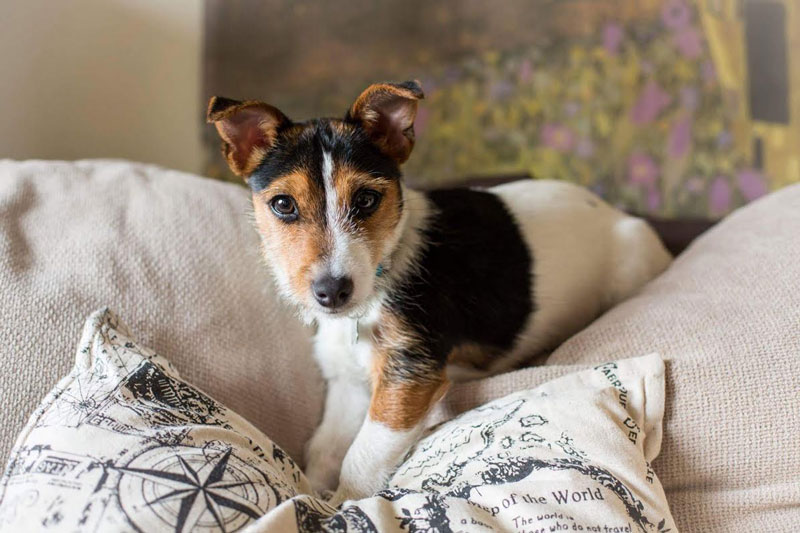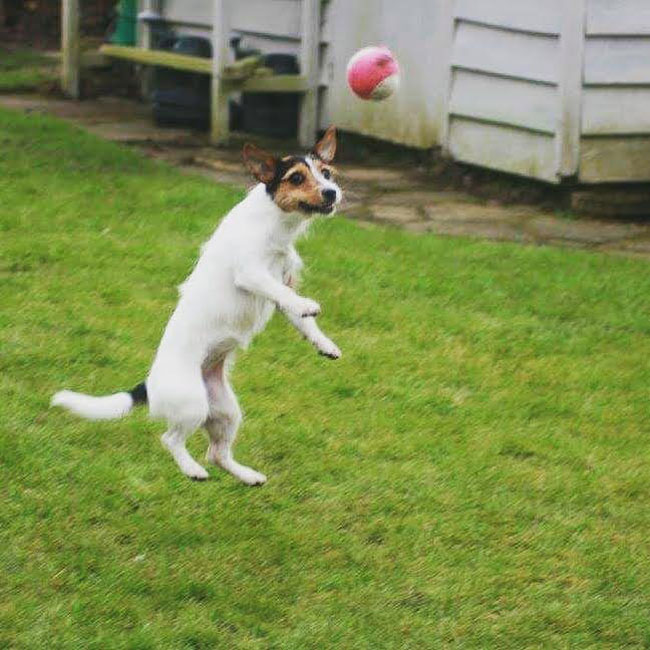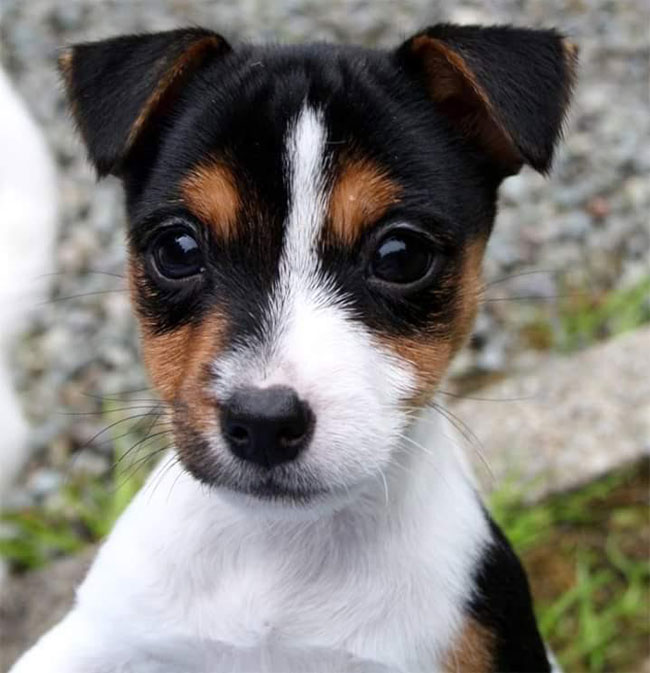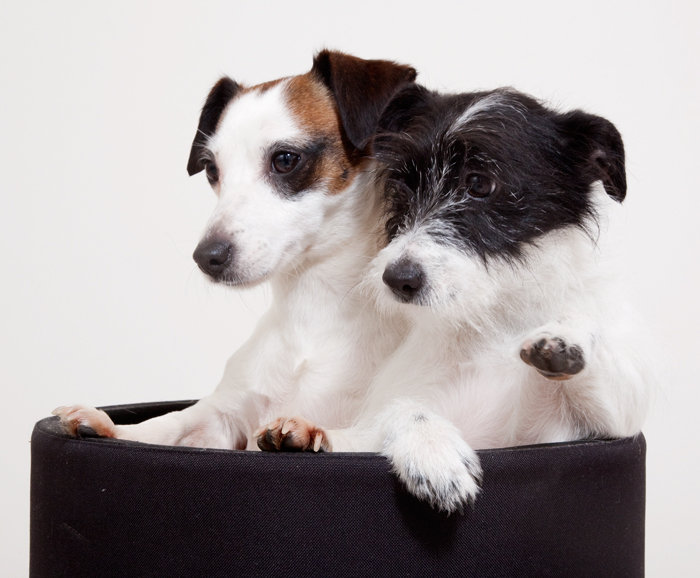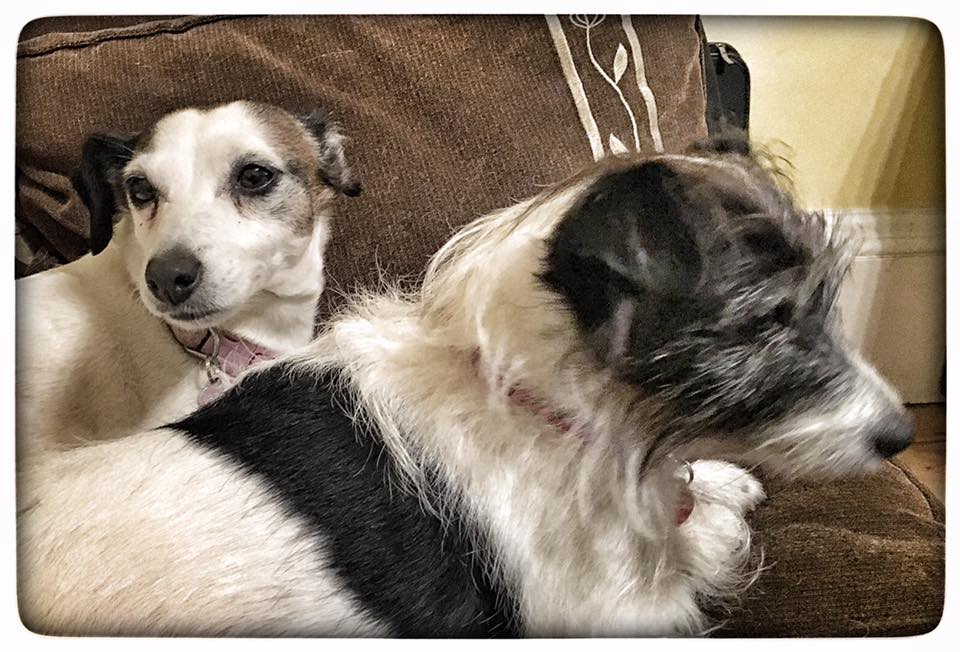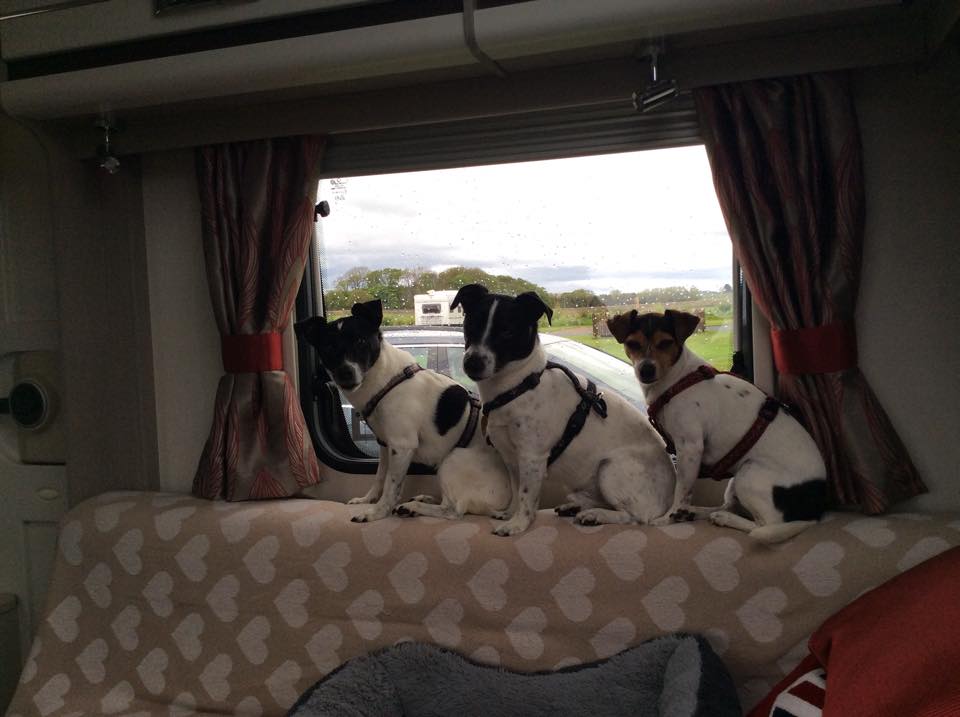 Malaika

16 years ago, Malaika came into my life and was the biggest joy, healthiest, best puppy, most perfect little shadow of mine. Losing her has been heart-breaking, but we knew without a doubt that we wanted to go back to Angie and her Cumbreck JRT bloodlines, and get another once the time is right. Because it is clear that these dogs are bred and raised with care, protecting a healthy gene pool and good nature. First-hand, we experienced the utmost love and joy of having a Cumbreck be a part of our family, and we are looking forward to going on a new adventure in 2022.

Renna Sternberg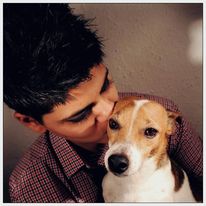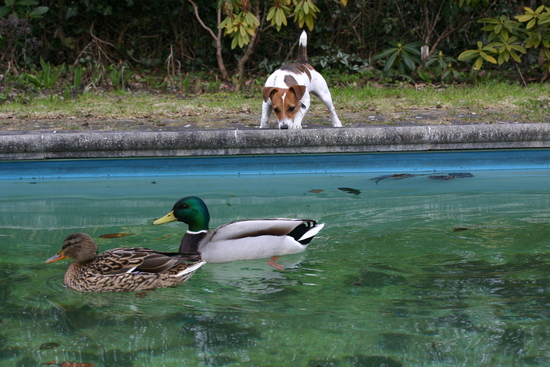 Wren

We are lucky enough to know several owners of cumbrecks so choosing a breeder was a no brainer for us. Wren arrived over from Ireland after a day's travelling and we have loved her ever since. She truly has brains and beauty. We couldn't have wished for a more loving, smart, sweet natured Jack Russell. I wouldn't hesitate to have another dog from Angie and recommend Cumbrecks in the future.

Karen Chapman